Bai-Alai programme is implemented by Helvetas Swiss Intercooperation in consortium with Aga Khan Foundation in Kyrgyzstan.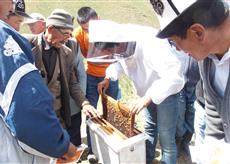 PA AgroLead works on development of beekeeping in three aiyl aimaks (AA): Gulcho, Josholu and Korul, in Alai district in the framework of Bai-Alai programme funded by the Swiss government. The aim of the programme is to assist in poverty reduction in Alai district – especially among women and youth. The main objective of the economic component 'Beekeeping' is to train on new beekeeping technologies for providing homogenous type of honey in three pilot AAs: Gulcho, Josholu and Korul through involving them in honey value chain and providing them with alternative source of income.
In the framework of the project several activities organised on uniting beekeepers of three AAs: Gulcho, Josholu and Korul on production of quality honey to access to internal and external markets of Kyrgyzstan: training of beekeepers on new technologies of honey production, buffer zone selected with import of bee queens Karpatka variety, scientifically proved that they are well adapted to climatic conditions of Kyrgyzstan, as well as they will increase honey production. Also, joinery shop established for production of beehives on new technologies that enable to increase the honey yield. At present, beekeepers of three AAs Gulcho, Josholu and Korul united into cooperative of beekeepers 'Alai Too Aseli' working on improving quality of honey production for export. The cooperative has its own brand 'Nomad Bee' under which they plan to promote their production not only in Kyrgyzstan, but in neighbouring countries such as Kazakhstan, Russia and China.