CANDY – IV ADVANCED SUPPORT PROGRAMME TO CENTRAL ASIAN BUSINESS INTERMEDIARY ORGANISATIONS – SPECIALIZED AND INTEGRATED SERVICES FOR EXPORT ORIENTED FOOD PROCESSING SMEs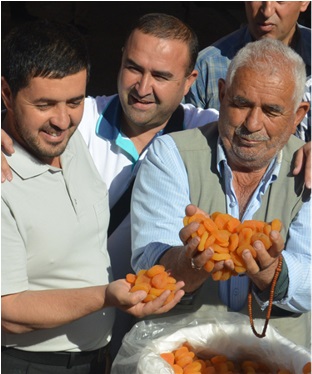 Hilfswerk Austria International – in cooperation with its partners AFVE, ASTI, NASMB, TES, AgroLead, MIS, Nekisgol Mushovir and WIFI implements the project "Advanced Support Programme To Central Asian Business Intermediary Organisations – Specialized and Integrated Services For Export Oriented Food Processing SMEs". The project is financed by the European Union within the program 'Central Asia Invest IV'.
The overall objective of the project is to contribute to the growth and development of export – oriented SMEs through improving the capacity of business intermediary organisations (BIO) and reinforcing their role as business advisors and service providers.
Target group:
Food processing SMEs specialised BIOs, suppliers of agricultural products, consumers, professional associations, farm unions, association of processors and seller in Kyrgyzstan and Tajikistan.
Target area:
Kyrgyzstan: Southern Kyrgyzstan;
Tajikistan: Sughd and Khatlon provinces.
The project contributes to increasing the role and competency of Central Asian BIOs with the aim of further development of and support to food processing SMEs on product promotion, innovative methods of production and diversification, quality improvement, international food safety standards, organic farming and principles of Fair Trade (Fairtrade, GlobalGAP, organic production).
Special attention is paid to formation of scientific – entrepreneurial councils to foster cooperation among research institutions and entrepreneurs to build a coordinated vision of scientific and technological future.
Along with other components/activities, the project will contribute to internal and external economic integration of Central Asia countries by increasing cooperation between regional BIOs and food processors.
The project promotes the establishment of close cooperation between trade representatives of the European Union and Central Asia opening more profitable markets for the processors.